Laine Powell
Woolblossom
---
Upcoming Events!
| Event | Date | Location | Status |
| --- | --- | --- | --- |
| Galaxycon (Raleigh) | July 27-30th, 2023 | Raleigh, NC | ACCEPTED |
| Fayetteville Con | August 12th, 2023 | Fayetteville, NC | ACCEPTED |
| Superstar Anime | August 19-20th, 2023 | Virginia Beach, VA | ACCEPTED |
| Power Comicon | September 16th, 2023 | Florence, SC | ACCEPTED |
| Asheville Con | September 23rd, 2023 | Asheville, NC | ACCEPTED |
| Beer City Comic Con | September 30th-31st (for exhibitors), 2023 | Asheville, NC | ACCEPTED |
| Motown Con | October 7th, 2023 | Morrisville, NC | ACCEPTED |
| Galaxycon (Richmond) | March 15-17th, 2024 | Richmond, VA | ACCEPTED |
Frequently Asked Questions
This is a general FAQ! Any more shop specific questions (things like shipping) can be found on my shop site FAQ :)
Q: What do you use to draw?
- I use Procreate on the iPad pro!Q: What brush do you use?
- I use a 6B pencil (I can't remember if it's a Procreate default) to sketch and Dina Norlund's HB Pencil for line artQ: Do you do commissions?
- Sometimes! You can find them on my Ko-fi linked above!Q: Can I get a tattoo of your art?
- Sure! I have a tattoo ticket in my shop here: https://woolblossom.shop/collections/digital-items/products/non-physical-item-tattoo-ticket !Q: Can I use your art as an icon?
- Yeah! Just don't use my logo, and be sure to credit me in your bio! :)Q: Can I send you something in the mail?
- Yes! I have an 11 x 11 inch PO box that I check once a week <3 Here's the address!Laine Powell
PO Box 90907
Raleigh, NC 27675Q: Where do you outsource (product) /
get your (product) made?
- Stickers: Stickerapp and Stickerninja
Sticker Sheets: Stickerninja
Patches: Stadri Emblems
Prints: Cat Print
Notepads: Juke Box Print
Charms/buttons/a lot of other stuff: Vograce
About Me!
This is just a little info about myself for anyone interested <3
My name is Laine and I'm a queer/non-binary illustrator!
-
Pronouns: They/them
Birthday: March 20th
Age: 22
Zodiac Signs: Pisces Sun, Libra Moon, Cancer Rising
College: Ball State University Alumini
-
I currently live in Indiana while my partner finishes his degree, but I'm from and will be returning to North Carolina this May <3
I started Woolblossom in August of 2020, and it's been my full time job since!
-
Interests
Stardew Valley, Undertale, Terraria, Minecraft, Barbie Movies, Littlest Pet Shops, Warrior Cats, Musicals (Phantom, Heathers, Waitress, Legally Blonde, etc.), Various Youtubers (Lilsimsie, Safiya Nygaard, Markiplier, Quinton Reviews, Try Guys, Good Mythical Morning, etc.), Baking, Marvel (...sometimes)
-
Fun Facts <3
I taught myself music fundamentals + how to play flute and joined my high school's concert and marching band my Sophomore year! During high school it was my biggest passion (I almost majored in flute performance). By senior year I'd placed 2nd chair flute in my county's all county band! It is my second passion in life <3
I have three cats! Kitty is 8 years old and is with family while I've been at college (she's an orange tabby). I also got two cats in January of 2022! Chai is a diluted grey/pale yellow tortie, and Tobey is a black and white tuxedo- they're both over a year now.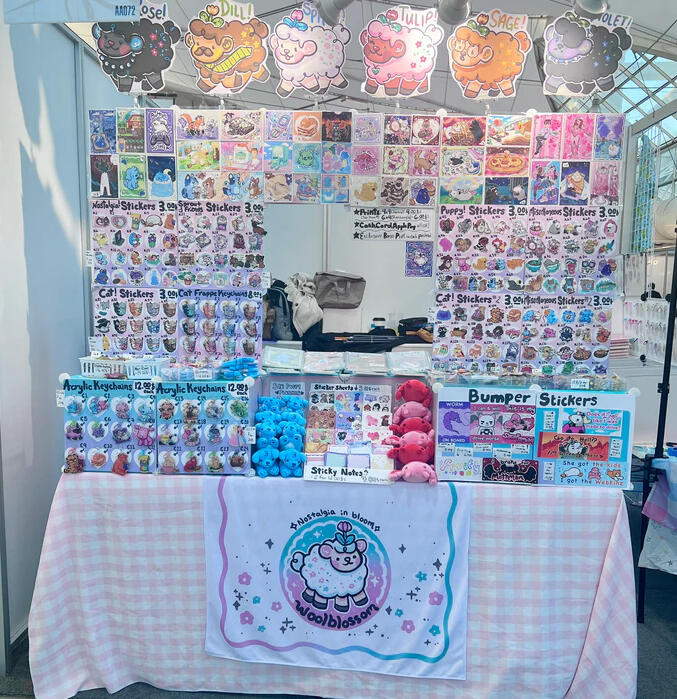 ---
Hi there! My name is Laine and I'm a queer artist :) I've been selling my art online for over two years now under my shop Woolblossom, fulfilling over 10,000 orders!My tabling experience consists of: Indy Popcon 2021, Tidewater Comicon 2023, Awesomecon 2023, and Galaxycon Raleigh 2023; as well as a handful of local craft shows :)I currently offer more than 500 unique designs, ranging from stickers and prints, to enamel pins and notebooks. I have new items every month, so my display is always adding and evolving!I have a focus on cute, nostalgic works- largely original but with some fanart sprinkled throughout.You can view the fullest range of my product catalogue via my shop site .Thank you! ~
---
Table Close Ups (Awesomecon 2023)
---
Product Showcase